Complete Guide: What Is a Mini Split Air Conditioner?
A mini split air conditioner is an excellent alternative to central air conditioning.
It has enabled people to cool their homes, garages, commercial properties, offices, and rental apartments without the hassle of installing a central air conditioning system. 
But what is a mini split air conditioner? Is it more energy efficient than central air conditioning? How difficult is it to maintain a mini split air conditioner? 
These are just some of the questions you might have if you consider this AC for your use. 
Since we're experts in various cooling and heating systems types, we'll answer these questions and more to help you understand mini split air conditioning inside and out.
What Is a Mini Split Air Conditioner ?

A mini split air conditioner consists of two main units.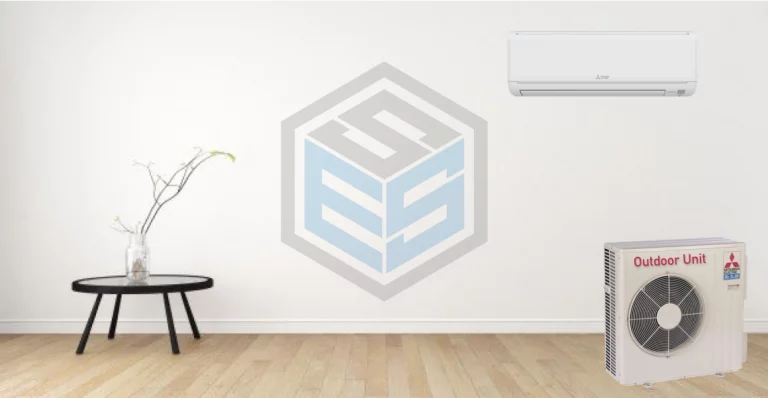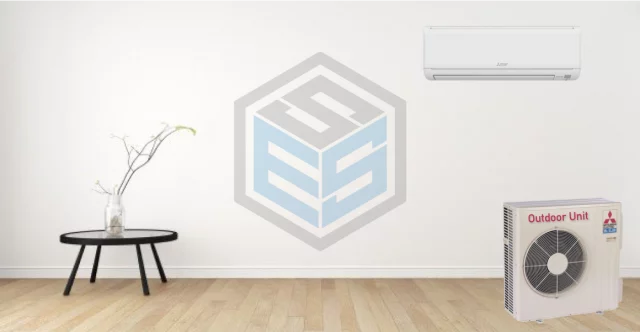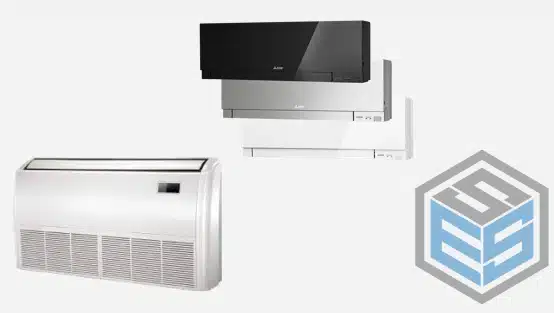 The indoor unit has an evaporator approximately 30'' wide, 12'' long, and 10'' deep rectangular box mounted on a wall inside the room you want to cool.
An outdoor unit houses the compressor and is placed in any outdoor open space. It's shaped like a square, and its average size is 31″ x 21″ x 12″, but the sizes vary between different models.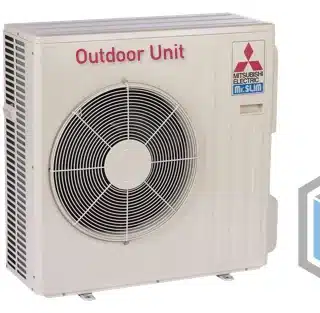 The difference between a Mini split A/C and a Central A/C system

The key differentiating factor of a mini split AC from a central air conditioning system is that the former is ductless.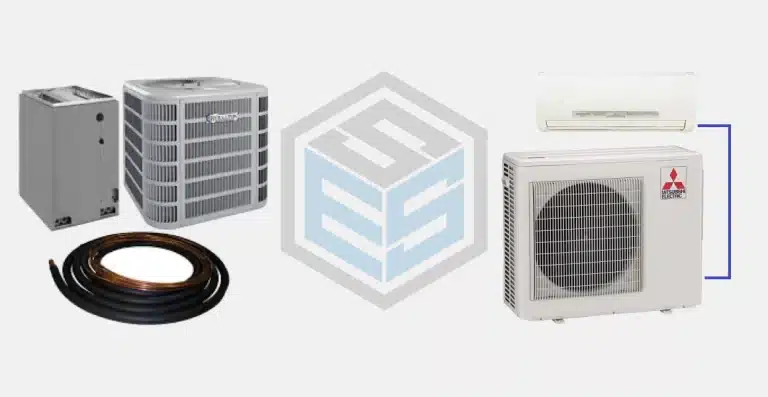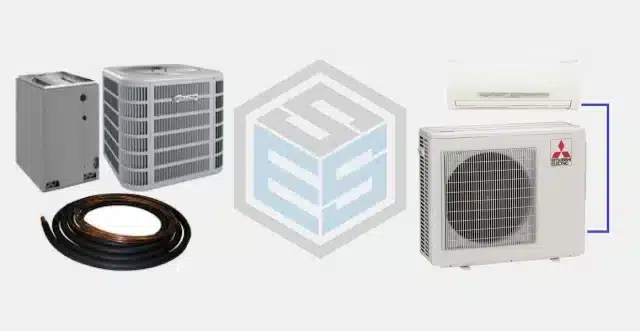 Hence it's a lot like a window AC except that the mini split has two units while the window AC is one big piece.  
One of the great things about a mini split air conditioner is that its average power consumption (measured in seasonal energy efficiency ratio (SEER) units) is quite low.
Mini split ACs Types and Sizes

Mini split ACs come in a few different types and sizes. The types include floor-mounted AC, ceiling-mounted, wall-mounted, and multi-split ACs with various indoor units.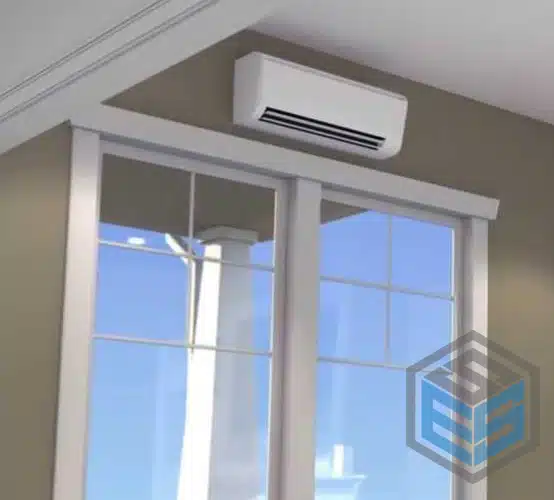 Wall-Mounted Mini Split A/C
A wall-mounted mini split air conditioner is a type of air conditioner that is designed to be mounted on the wall.
The main advantage of these devices is that they don't take up any floor space. They can be installed in any room and can be hidden behind a cabinet or a door.
Ceiling-Mounted Mini-Split A/C
A ceiling-mounted mini split air conditioner is a type of air conditioning system that sits on a ceiling and provides cooling and heating to the room.
A ceiling-mounted mini split air conditioner is an alternative to the traditional window or wall mounted systems. They are installed in homes and offices where there is insufficient space for other types of systems.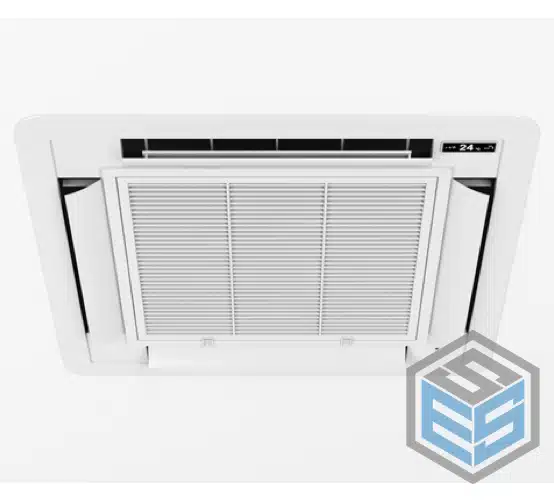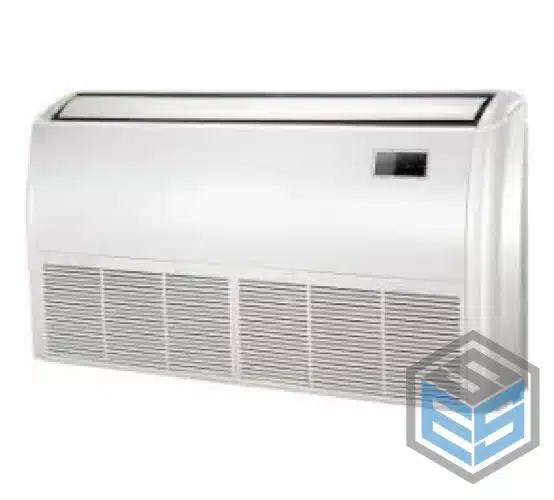 Floor-Mounted Mini Split A/C
A floor-mounted mini split air conditioner is a cooling system that sits on the floor. It is a type of air conditioner that can be installed in many different places.
Floor-mounted mini split air conditioners are more expensive than window units, but they are also much more efficient and quieter.
The multi-split AC is a very common type of air conditioner that is used in residential and commercial buildings. The device has multiple indoor units which are connected to one outdoor unit.
The multi-split ACs are efficient because they can be installed in various places, such as on the wall or ceiling, which means that they can be placed near the areas where people spend more time.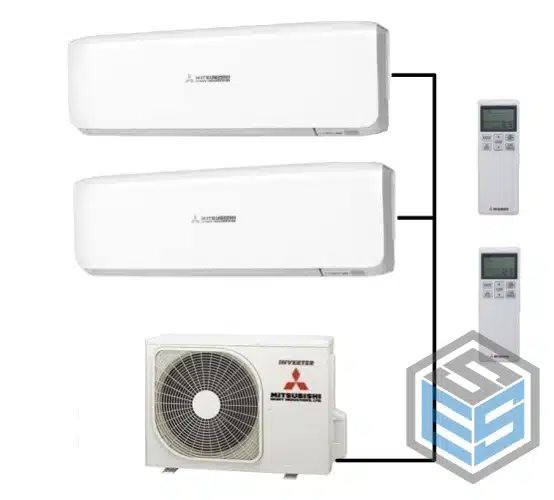 AC System Sizes & Capacity
The sizes, such as 1 ton, 1.5 ton, 2 ton, and so on, are defined by the AC's capacity. 
A 1-ton unit has 12,000 BTUs (more on this later). A ton describes the amount of heat that the AC can remove hourly.
We can help you to choose the right size of system for your space.
How Do Mini Split Air Conditioners Work?

How Do Mini Split AC Work?
A mini split air conditioning system has an outdoor and indoor unit connected through pipes. 
The indoor unit sucks the warm air in  and passes it over a coil containing refrigerant fluid to cool it down. It sends the heated refrigerant (now vaporized) to the outside unit to be released in the fresh air and returns the cool air into the room.  
This AC has fans in the indoor unit that function at different speeds, and you can also adjust the airflow direction. 
You'll need a handheld remote or mobile app to change the settings and temperature of your mini split AC. You don't need any ducts, like the ones in a central air conditioner, to assemble a mini split air conditioner.
Here's a simplified version of
how mini split:
How Long Do Mini Split Air Conditioners Last?
Now you know what a mini split air conditioner is and its advantages. Let's discuss how long mini split air conditioners last. 
The average lifespan of a mini split AC unit is 10-20 years, although some can last longer and work optimally. 
The longevity of an AC unit depends on its frequency of use, maintenance, accidents such as excessive voltage fluctuations, quality of product, and environmental conditions.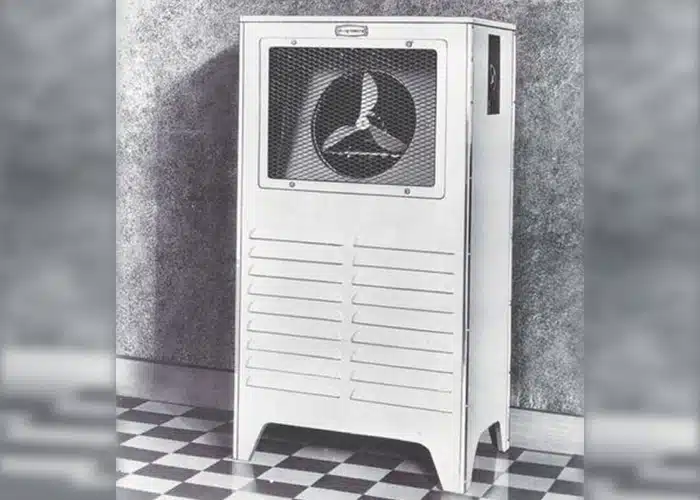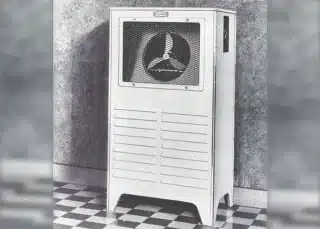 What Are the Advantages of a Mini Split Air Conditioner?
A mini split air conditioner offers certain benefits. Here are some of them: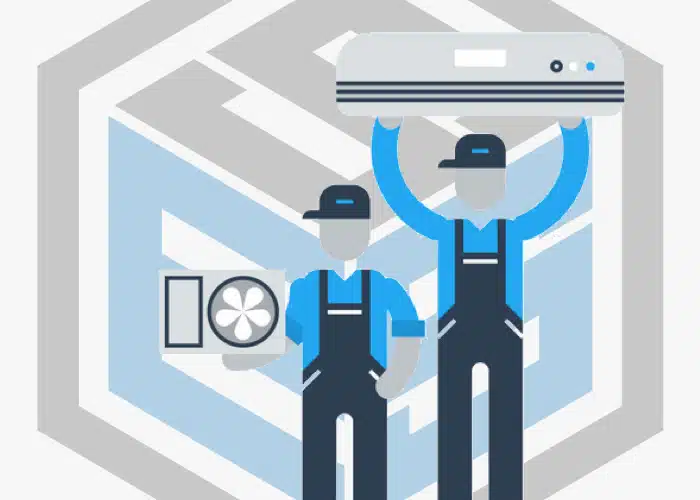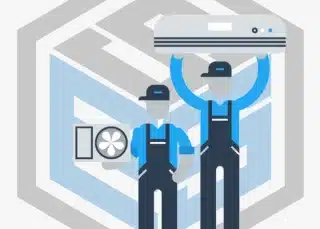 Ease of Installation
You don't need to create an extensive duct system to install a mini split AC.
You'll need to drill just a few holes in the wall to mount the indoor unit and create an opening of 3 to 4 inches to pass the pipes connecting both units. 
You have to insulate just one room instead of the entire house to decrease the power consumption of a mini split AC. 
That makes its initial installation cost and time less than that of a central air conditioning system (if you have to build the ducts as well) but around the same as that of a window AC.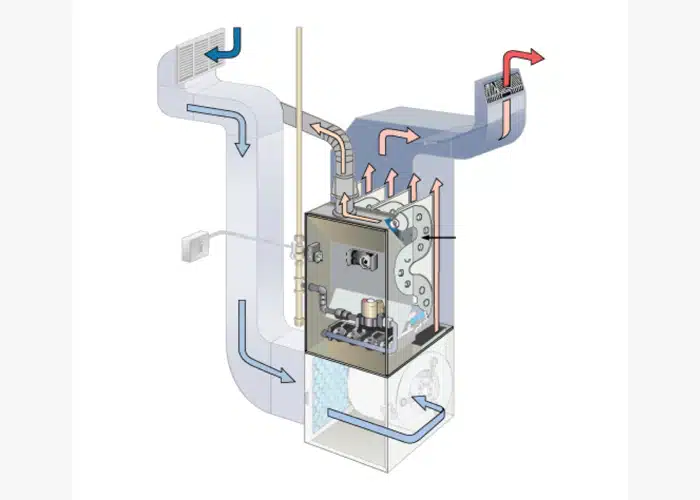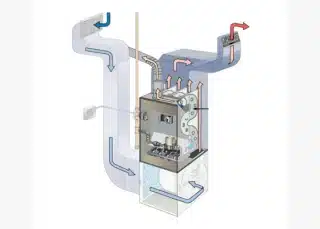 Loss of Cool Air Is Negligible
Mini split air conditioners solve a significant drawback of central air conditioning systems: the leakage of cool air while it passes through the ducts. 
Some reports claim that this loss due to inefficient ducts results in almost 30% more energy consumption. Since mini split ACs are ductless, you don't have to worry about losing cool air.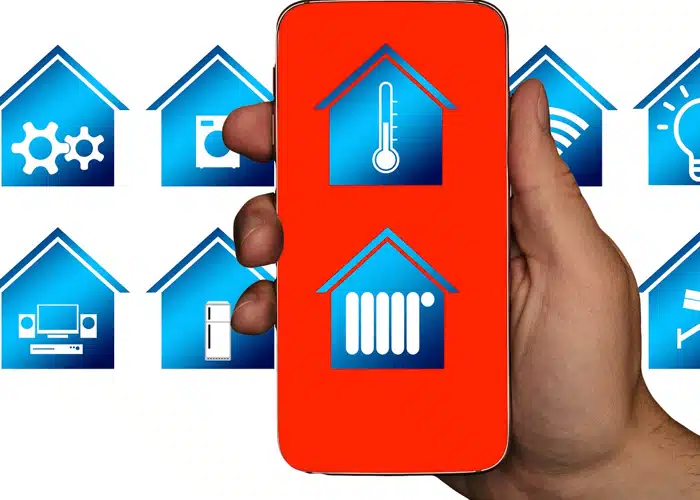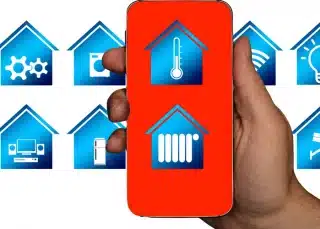 Freedom of Individual Temperature Control
You can change the temperature of each mini split air conditioner independently of other units if you have them.
When Should You Choose a Mini Split AC Over a Central AC System?
Your decision to go with a mini split air conditioner over a central air conditioner or window AC should be based on several factors such as:
Now that you know what a mini split air conditioner is, you must understand that it's a super cost-effective option for a small property such as a trailer or portable home, extensions such as a mud room or a home office, garage, studio apartment, or one room of the house.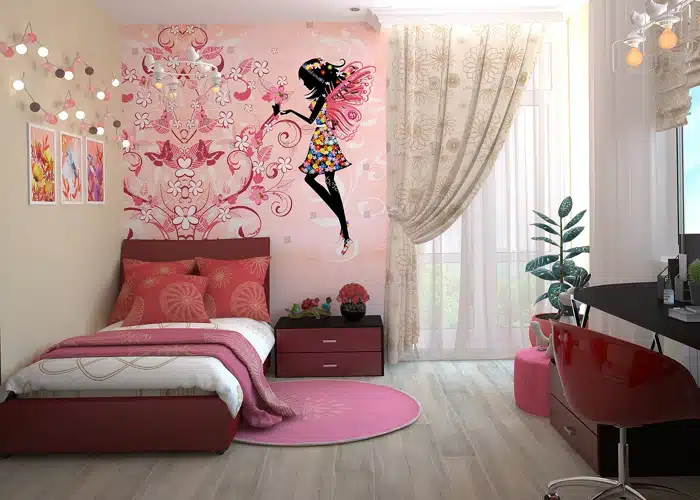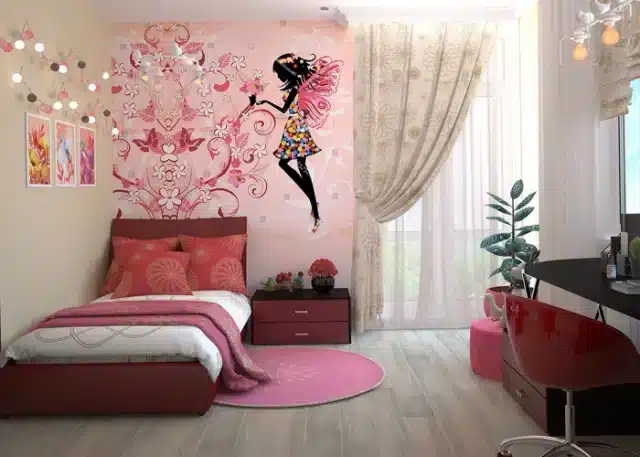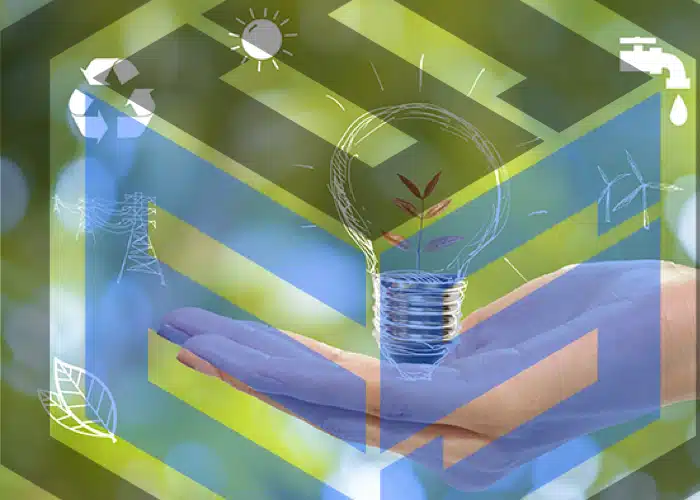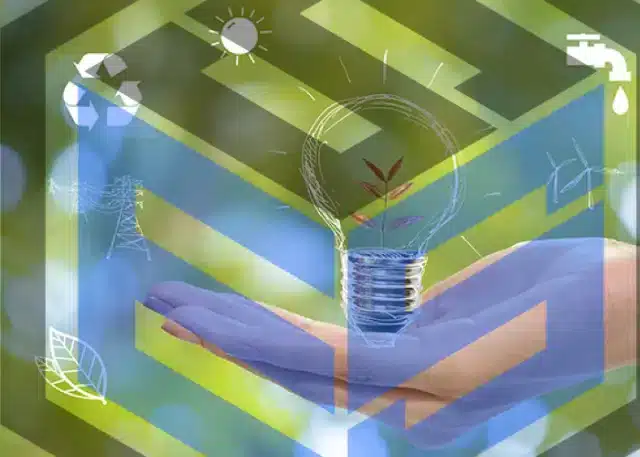 For Decreasing Power Consumption
Mini split ACs are more energy efficient than central air conditioning because they generally have a higher SEER score and zero ducts which means there's no loss of cool air due to duct leakage. 
If you're not worried about the power bill because you have a large solar-powered space and the room's aesthetics are important, then you might want to go for a central air conditioning unit.
To Cut Down on Insulation Costs
Insulation costs can add up, and it's necessary to do so when you live in a cold environment.
For example, the average insulation for a central air conditioning duct system is around $1- $6 per square foot.
Central air conditioning systems require insulation of all the ducts. You should go with a mini split air conditioner if you don't want to spend much on insulation and its maintenance.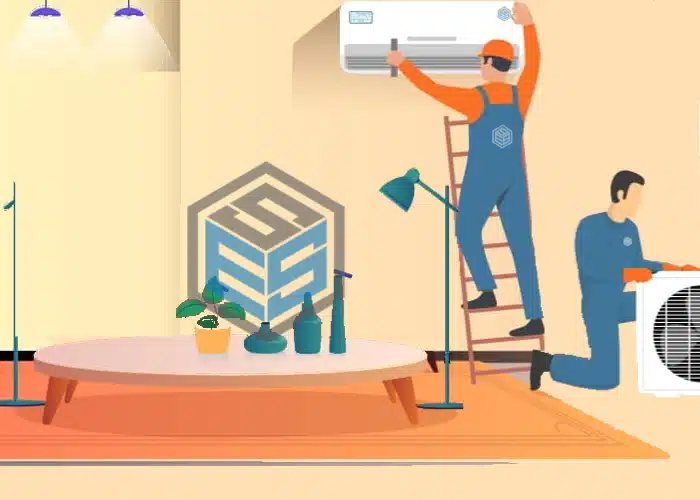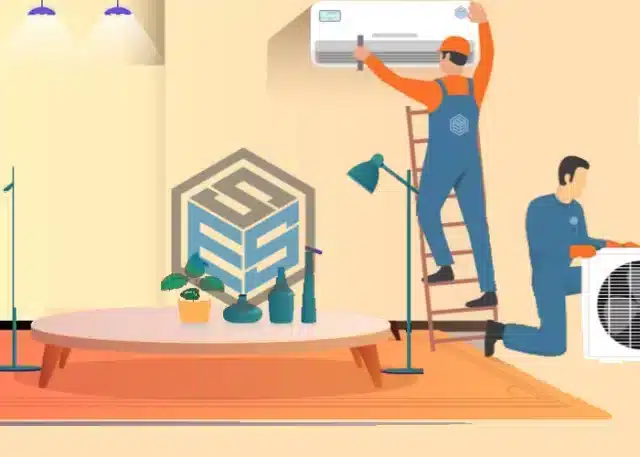 How to Choose the Right-Sized Mini Split AC for Your Room?
The general guideline for selecting an appropriately sized mini split AC is to calculate the square footage of your room and compare that to British Thermal Units (BTUs). It's a unit that measures the amount of heat an AC can remove hourly.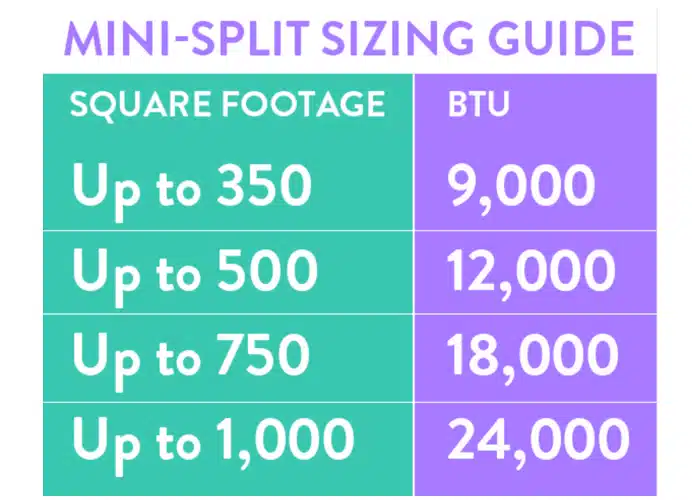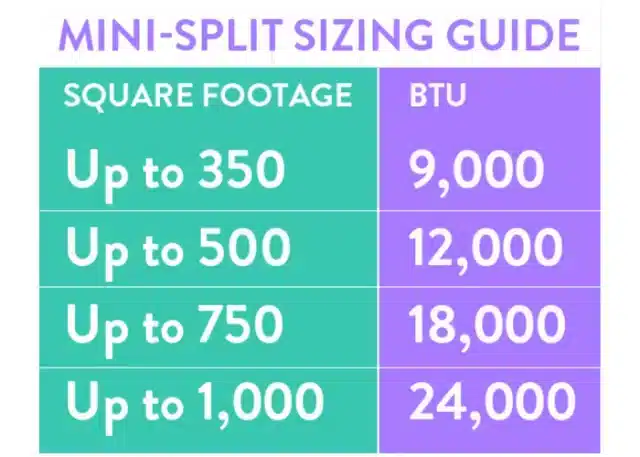 You don't need to go into the details of what the BTU is. Remember that you'll need approximately 20-25 BTUs for each square foot of space. 
You can calculate the square feet of your room by measuring the length and width from one edge of the room to the other and multiplying the numbers together. 
Then multiply this number by 20 or 25 to get the required BTU number.
For example, you'll need a mini split air conditioner with approximately 6250 BTUs for a 250 square feet room. If you can't find a mini split AC unit with the exact BTUs, go for the closest one. 
Calculating the size of a round room can get complicated.
You should get AC installation professionals to do these estimations and tell you the size of the mini split AC you need.
Who Makes The Best Mini Split Air Conditioner?
Here are some of the best mini split air conditioners in 2022:
Mitsubishi & Daikin are two of the leading mini split air conditioner producers. LG, Carrier, Panasonic, and PEL also have some great options. 
A criterion for a great mini split air conditioner is a high SEER score (thus high energy efficiency) and cooling capacity (tonnage and BTUs).
1. Mitsubishi FS - High Efficiency Wall Mounted Heat Pump Hyper Heat Plus - 9,000 BTU
Reasons for being on this list: 
High SEER score (30.5) 

3D i-see Sensor® enables advance features: Indirect or Direct Airflow for personalized comfort, Absence Detection for energy-saving mode

Hot-Start Technology: no cold air rush at equipment startup or when restarting after Defrost Cycle

Quiet operation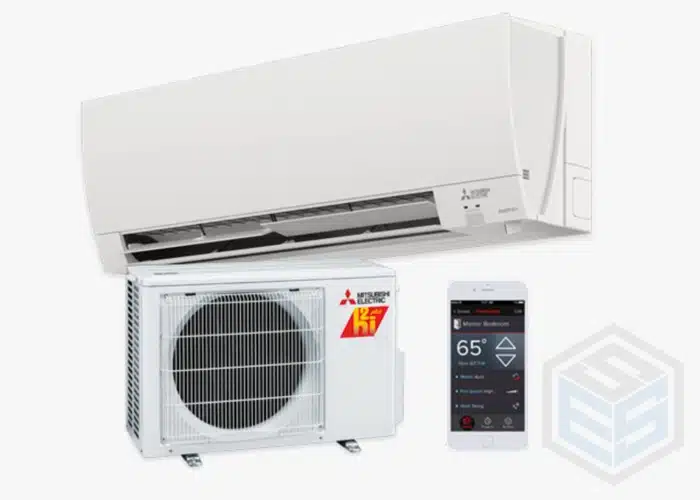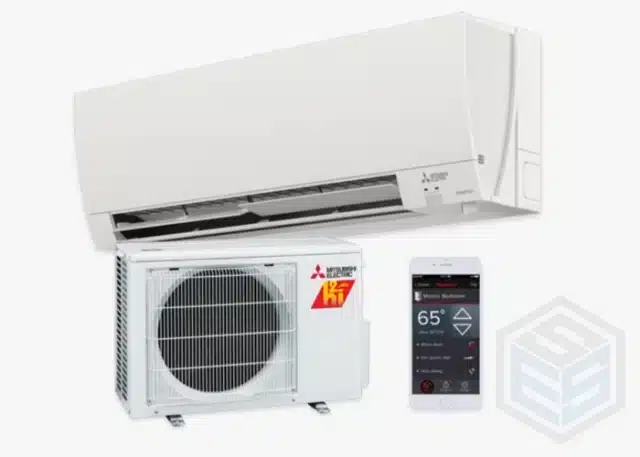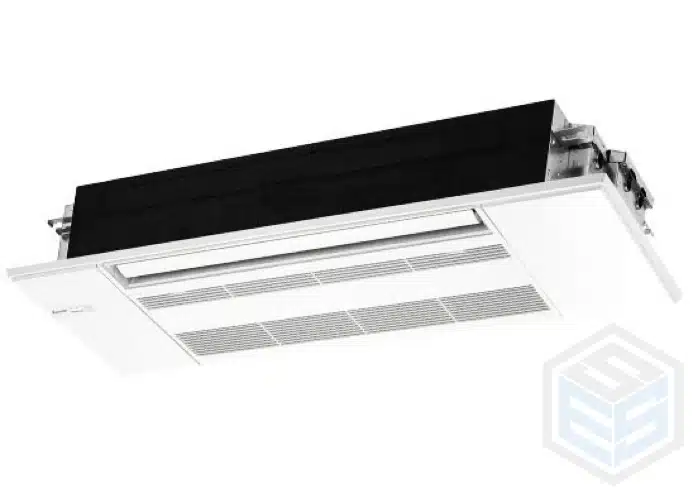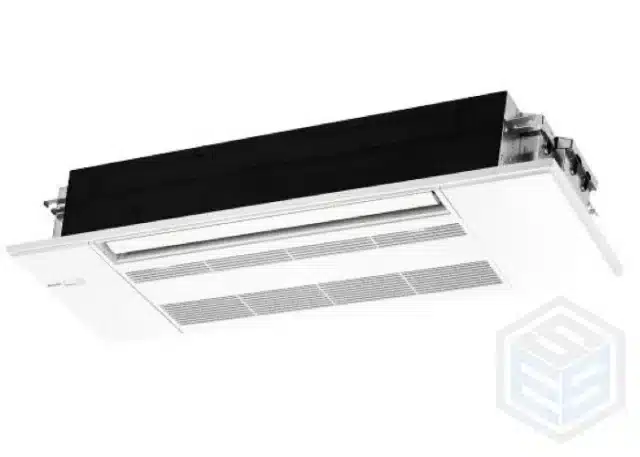 2. Mitsubishi MZKP 18NA One Way Ceiling Cassette 18,000 BTU
Reasons for being on this list: 
One-way ceiling-cassettes feature a sleek, modern design, blends well with your ceilings and let you direct conditioned air where it is most needed.
Fits between 16″ joists spacing

Stylish, square design panel

Adjustable fan speeds and vane directions

Quiet operation
3. Mitsubishi MFZ KA12NA High Efficiency Floor Mount 12,000 BTU
Reasons for being on this list: 
Floor-mounted unit designed with multi-flow vanes that allow for fast warm up and efficient operation.
Perfect for difficult areas that may be smaller or don't have usable space on the walls

Multi-flow vane for faster heating

High SEER score (25.5) 

Quiet operation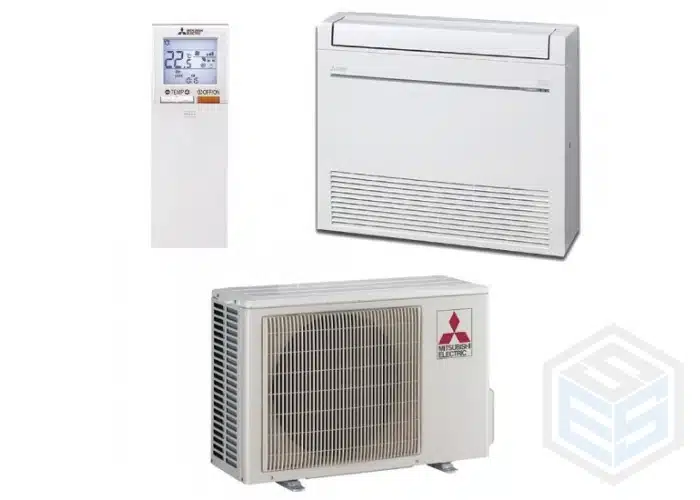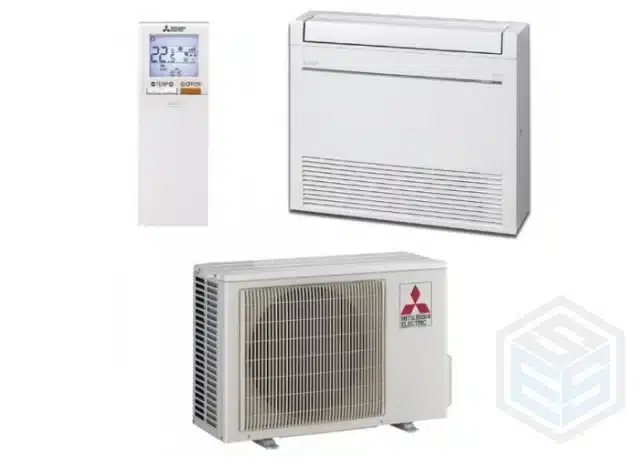 Common Problems With a Mini Split Air Conditioner
Here are some of the common issues you might face with mini split ACs: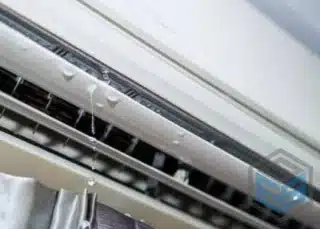 Water Dripping Inside the Room
Different reasons can cause water to drip from your indoor AC unit
A clogged condenser drain often causes water to backtrack and leak through the indoor unit.
You can fix that by checking the drain pipe for any accumulated dirt or mold and cleaning it.
Water dripping from your AC Inside the room can also indicate on a refrigerant leakage which freezes the inside unit coil.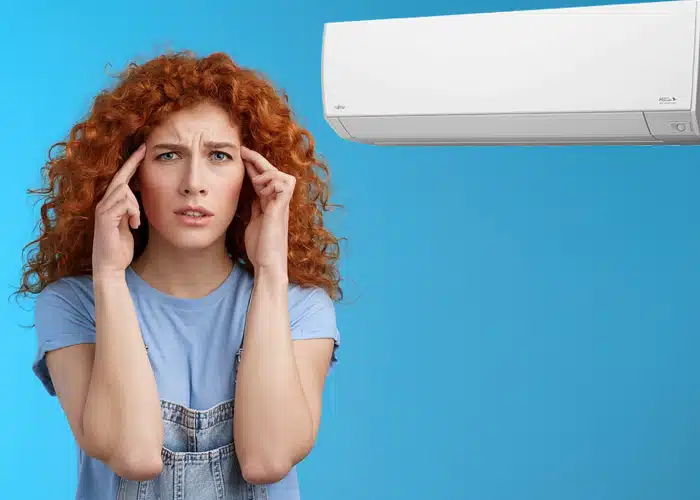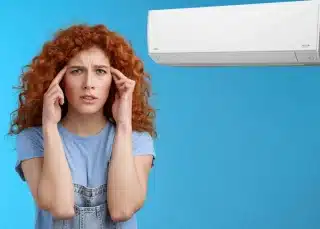 The AC Unit Make Too Much Noise
One of the key selling points of mini split air conditioners is that it runs quietly.
So if it starts making too much noise, such as cracking, gurgling, rattling, or swooshing, then get a professional AC repair crew to take a look.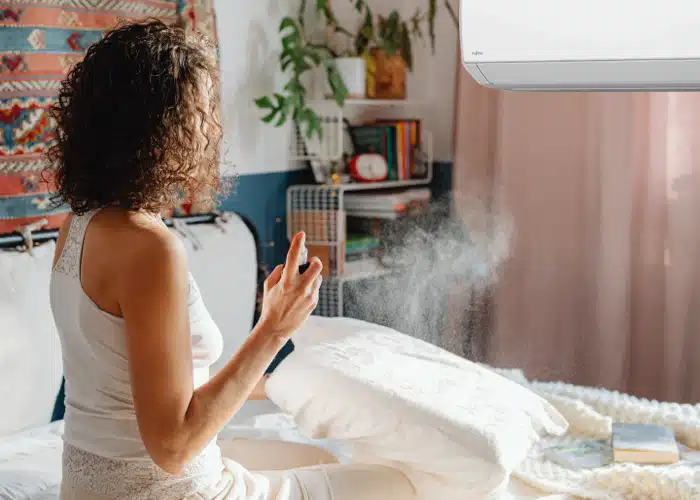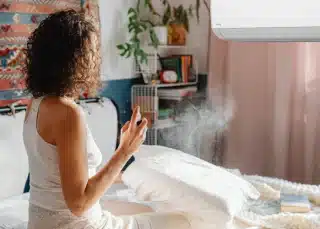 Unusual Smells From the AC
Issues such as dirty filters, moldy condenser drain, and refrigerant leaks can create odd smells.
Three Tips to Maintain Your Mini Split Air Conditioner
Timely maintenance of your mini split air conditioner can improve its efficiency and lifespan.
Here are some maintenance activities that'll keep your mini split AC in good shape:
Clean Out the Filters of the Indoor Unit
Dust accumulates in the filters as the AC cleans the warm air that it sucks from the room. You should clean the filters every couple of months.
If you have pets, especially cats, clean filters monthly because pets' fur particles can clog the filters. That activity can reduce your power consumption by 15%. 
You can clean the filters by removing them from the unit, dusting them off, or vacuuming them and then rinsing them with clean water.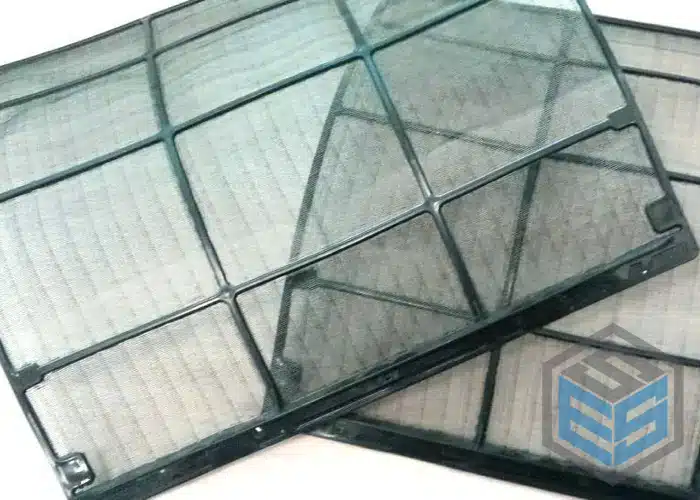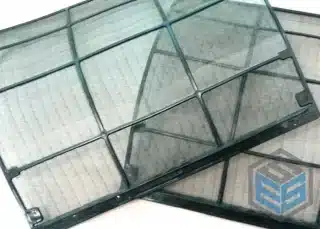 Dusting off Outdoor Condenser Coils
The outdoor unit has visible coils on its surface.
Dusty air, windy weather, and nearby foliage can collect on it, reducing the airflow through it and thus its efficiency. 
It would be best if you took a small broom and gently scrubbed the coils to clean out all the debris whenever they're dirty.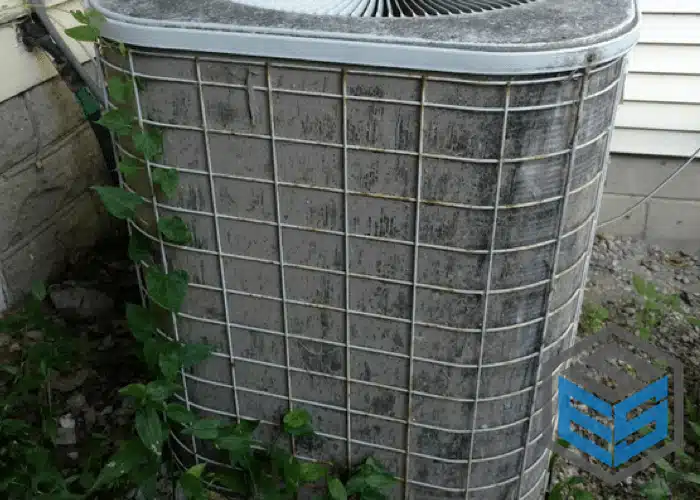 Bonus Tip to Improve AC Efficiency
You should also avoid keeping lamps, TV, or other electronic devices that generate heat close to the mini split air conditioner's thermostat inside the indoor unit. 
The heat from these devices and even direct sunlight tricks the thermostat and causes your AC to run longer than it needs to.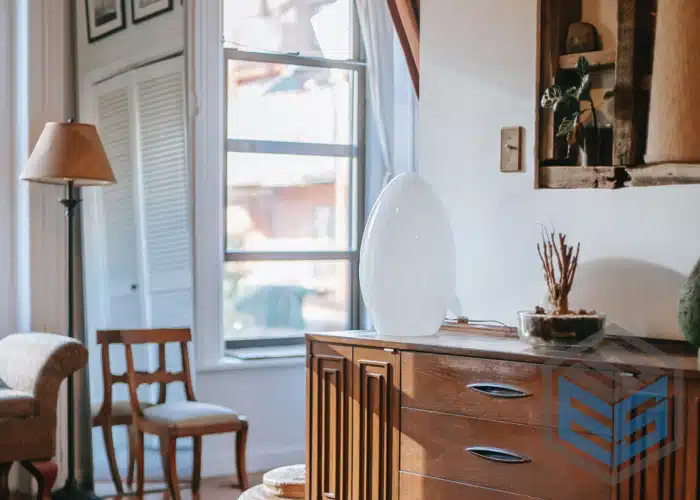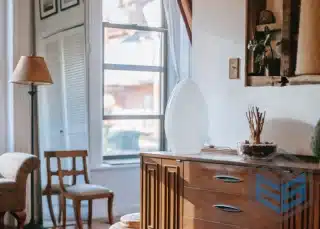 Call Our Experts For a Maintenance
You can call our experts to perform maintenance of your AC at a reasonable rate or DIY if you have the required skills.
FAQs About Mini Split Air Conditioners

Have more questions about what a mini split air conditioner is? We have you covered:
1
Are Mini Split Air Conditioners Better Than Central Air Conditioning?
A mini split air conditioner might be better for you than a central air conditioning unit, but that depends almost entirely on your specification, usage, room size, and other requirements.
2
What Is the Average Installation Cost of a Mini Split Air Conditioner?
The installation cost for any HVAC system depends on the location, accessibility to the location, and type of air conditioning unit. You should get a quote from us based on your specifications.
3
Can a Mini Split AC Cool Your Entire House?
Yes, you can cool your entire house comprising multiple rooms by installing multi-split type air conditioners. Depending on capacity, one outdoor AC unit can support four to five indoor units.
4
Can Anyone Install a Mini Split AC?
You can DIY the installation of a mini split air conditioner. Still, it's best to call HVAC installation professionals because they can ensure the fitting is correct the first time around.
5
How Much Electricity Do Mini Split Air Conditioners Consume?
On average, a 1-ton mini split air conditioner uses 1,200W (1.2 kWh/h). You can calculate the electricity consumption of ACs by multiplying the kW by the number of hours you run the AC.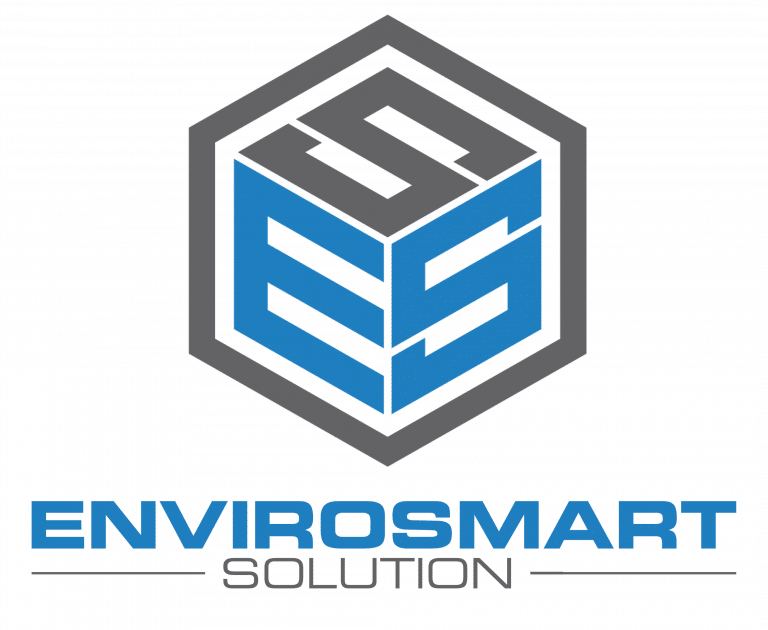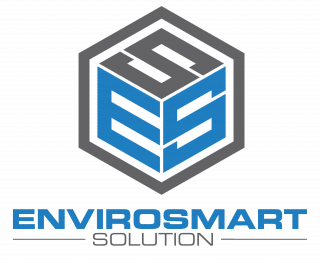 Optimize Your Home Air Conditioning With Envirosmart Solution

A/C systems are an investment that pays for itself in a few years. 
Tired of paying high energy bills and still feeling cold/hot in your home? Invest in the right system for your needs.
Here at Envirosmart Solutions, we have almost two decades of experience and offer the best HVAC services in Tacoma, Seattle and near by areas.
Our experts know the weather conditions, Local codes, and engineering methods your home needs. 
Give us to us via email or give us a call to book a free Fast Quote today!
Get Your Free Quote Fast.
Fill out this form and we will contact you within 24 hours.
Have a question?
Call now and talk to our qualified professional technician
We're here to answer any questions you have.
You can also email us at:
contact@envirosmartsolution.com
330 SW 43rd St Suite K267
Renton, WA 98057
License # ENVIRSI815KB
facebook messenger: m.me/EnvirosmartSoutions